〘POF Username Search Tutorial〙
Step By Step Instructions On How To Use POF Username Search Tutorial Software To Search for Anyone by Username of Plenty Of Fish (pof.com) Dating Website
This page contains step by step instructions on how to use POF Username Search software to search for anyone by username of Plenty Of Fish (pof.com) dating website.
POF Username Search Software Program Tutorial
Below is an image of the POF Username Search Tutorial software program interface. Refer to this image which shows POF Username Search program with elements numbered corresponding to the list description below.
❶

POF Username Search search textbox.

❷

POF Username Search button to click to perform username search.

❸

Listbox which displays POF Username Search results that match or partially match the username you entered in textbox ❶.

❹

POF Username Search preview image of user profile clicked on in the search results listbox.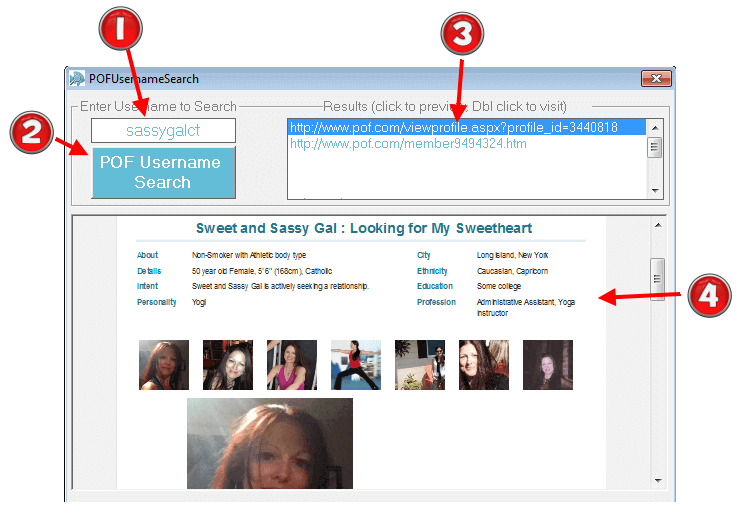 How to Use POF Username Search Software
Press the POF Username Search button.

❷

(image) Depending upon the speed of your internet connection, search results will appear in the programs listbox

❸

(image) in a second or two. (video)
How to Use POF Username Search Software [Video]
Known Issues and Frequently Ask Questions about POF Username Search
QUESTION: why is it that when I perform a POF.com username search on a Plenty Of Fish member that I KNOW exists does now show up in the POF Username Search Software?.
ANSWER: this is usually because the persons POF dating profile is so new their profile page has not yet been indexed by the search engines. The benefit to this to you, the POF searcher, is that this lag in profile display time allows you to find a POF member profile page EVEN if they have deleted their profile.
QUESTION: the software seems to behave funny and/or not perform the way it should.
ANSWER: make sure you run POF Username Search UNZIPPED, meaning, when you downloaded POF Username Search it was in a .zip file. You need to right click this downloaded .zip to display a menu. In that menu will be the option to unzip the .zip. You can then run the software successfully from the UNZIPPED folder. To help you understand this, think of a software program as an entertainer. This entertainer is delivered to the front step of your house, zipped up in a suitcase. You bring the suitcase in, set it down in the living room and wonder why the entertainer isn't singing and dancing like he should. The answer is that you have to unzip the suitcase so he can get out first. A software program is the entertainer and the .zip file is the suitcase they are in.
POF Username Search Technical Support
If at any time you have questions about this software program and how to use it we will gladly provide you unlimited technical support by whatever channel of communication is best for you which includes:
Phone

(860)

248-5425.

(text or call)

Skype. scrapersNbots
Viber.
The live chat box in the lower right hand corner of all pages on this website.